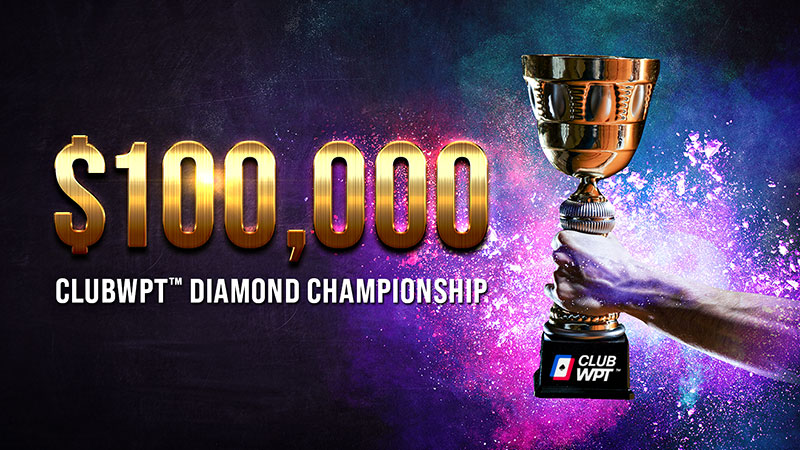 This promotion is based on Sweepstakes laws.* See Prize Eligibility for eligibility requirements. *NO PURCHASE NECESSARY.
$100,000 ClubWPT™ Diamond Championship
If you like ClubWPT's commitment to offer $100,000 per month in cash & prizes, you'll love the opportunity to play for a staggering $100K+ prize pool in a single tournament with $25,000 cash going to the winner! And with only 600 seats in the $100,000 ClubWPT™ Diamond Championship up for grabs, earning your ticket into the $100,000 ClubWPT™ Diamond Championship should be a priority leading up to the Main Event in May 2022.
And to make this Championship event even more attractive – in addition to the $25K 1st place prize – we're also throwing in a WPT® Main Event seat ticket to a future live $10,000 buy-in event (plus a $2,000 travel allowance), to the winner of the $100K Diamond Championship Main Event in May 2022.
Starting May 2021 and running through April 2022, ClubWPT™ Diamond members can enter a monthly qualifier for a chance to win one of the 50 entries (12 x 50 = 600). If you're new to ClubWPT™, or currently a VIP member, and would like a chance to enter this Championship event paying out a whopping $25,000 to the first place finisher, join or upgrade to Diamond today!
The $100,000 ClubWPT™ Diamond Championship Main Event featuring the 600 qualifiers takes place online Saturday, May 14, 2022 @ 3:00 PM ET at ClubWPT.com.
Next Upcoming Main Event Seat Qualifier:
Sunday, April 10, 2022 @ 5:30 PM ET (The last 50 Main Event seats up for grabs)
Full Tournament Terms & Conditions
---

Not yet a ClubWPT™ Diamond Member but would love to compete for the $25,000 cash first prize in the $100,000 Diamond Championship?
ClubWPT™ offers Diamond players the unique opportunity to compete for larger prize pools, more WPT® live event seat VIP packages, and an exclusive array of unique experience packages, including a fully-loaded lineup of preferred benefits only available Diamond members.
Daily Diamond tournaments featuring bigger prize pools.
Smaller tournament sizes with less players sitting out.
Access to all Diamond level tournaments with NO Tournament Points (TPs) required.
More qualifying opportunities for official WPT® live main event seat packages.
Diamond only access at World Poker Tour® special events.
Complimentary membership to LearnWPT's Insider Access Plan for poker skill development (a $99.00/month value.)
Plus all VIP membership perks like a chance to win a share of $100,000 per month in cash & prizes each and every month, access to the entire library of WPT™ TV show episodes, great discounts on official WPT® gear & merchandise at ShopWPT™, guaranteed everyday savings at ScoreBig® on tickets to live sports games, shows & concerts, and full complimentary access to the Entertainment SaversGuide® offering 2-For-1 savings on attractions & live events, movies, fast food & fine dining, sporting events, golf & more.*
Join ClubWPT™ Diamond Today* ›
Already a Diamond Member? Click here to log in.