Category: VIP Member Spotlight
WPT500™ Super Sweepstakes Winners

Congratulations To Our Winners!
Congratulations to the ten lucky winners who won the WPT500™ Super Sweepstakes from January and February!
The good news is that all of these ClubWPT™ players won a very nice event package. The unfortunate news is due to lack of live tournament offerings, including a WPT500™ event in Las Vegas this summer, the live playing opportunity is yet to be determined.
We will be working with each winner to determine the next live opportunity that could work for this prize.
WPT500™ Super Sweepstakes Winners
| Name | ClubWPT.com Player Username |
| --- | --- |
| Otto Brown | otto2864 |
| Ken Barwick | HurricaneKen |
| Randall Jordan | jordeli |
| Edward Auh | young fart |
| Harrison Huie | 3BetBetty |
| Ivan Jones | KOB60 |
| David Gittleman | JQCitizen |
| Paul Woloschak | Funchew |
| Harry Braglin | hardcorps1962 |
| Karl Williams | Skinnypirate |
The winners have all been notified.
Although technically an amateur player, ClubWPT VIP member Dale Michael is no stranger to the game of poker. Having played for decades, he's as comfortable at a live table as he is on the virtual felt. And although fairly new to ClubWPT, he bested over 2,000 players last Fall when he took down one of our premiere Sunday Featured Tournaments.
The Grand Prize?
An all expenses paid VIP Main Event seat package ($12,500 value) to the WPT® Gardens Poker Championship Main Event running Jan 9-13, 2020 at The Gardens Casino in Southern California.
This televised World Poker Tour® tournament will be the first five figure buy-in WPT event that he's ever played, and all eyes are on him as he's representing ClubWPT on the big poker stage while taking on the best poker players in the world.
The huge news for 2020 is the introduction of the ClubWPT $1,000,000 Bonus! And the season XVIII edition of the WPT® Gardens Poker Championship Main Event is the first event on the docket that is eligible for this promotion.
So not only is Dale playing for the first prize of the tournament itself – which last year was a cool $548,825 – but if he were to win the 2020 WPT® Gardens Poker Championship Main Event, he would also take home the ClubWPT $1,000,000 Bonus.
No pressure Dale… 😉
We sat down with Dale to talk about his background, his many poker successes, and why he loves the game so much.
ClubWPT: Dale, congratulations on winning the $12,500 WPT Gardens Poker Championship Main Event seat VIP package on ClubWPT.com!
Dale: Thank you so much!

ClubWPT: Where are you from and do you play any live poker in addition to playing online at ClubWPT.com?
Dale: I live in Palm Springs, CA and although I've been to both Gardens Casino and The Bike in the Los Angeles area in the past, I prefer playing locally, which usually ends up being the Agua Caliente Casino. Sometimes I venture down to San Diego since I have friends there and the fact that it's closer to where I live. At Agua Caliente they got ten poker tables and they run tournaments daily, and I probably play on average two live tournaments a week.

ClubWPT: How long have you played poker and how did you get started online?
Dale: I come from a family of card players, and that means everything from Canasta to Rummy to poker. I was in my 20's when I first started playing poker, which used to be at the local Elk's Lodge. I got more serious about it around 2004-2005 when the internet poker explosion happened, thanks in part to Chris Moneymaker winning the World Series of Poker.
I've have had a few successes along the way. For example, back in 2004 I won a trip to Ireland, and then in 2007 I won a WSOP Main Event entry. In that tournament I ended up min-cashing for twenty thousand and change. But poker is just a hobby of mine. My local casino is only 2 miles from my office, so sometimes when I get off work I go and play the night tournaments, and then sometimes on the weekends I enter their morning tournaments.
I started to play on ClubWPT.com in February of last year (2019) and feel I've been doing pretty well on your platform in such a short time; Not only did I get to hang out with the ClubWPT team in Las Vegas last Fall, but now I'm heading to The Gardens Casino to play a televised ten thousand dollar buy-in World Poker Tour® event thanks to winning the VIP seat package online.

ClubWPT: Do you watch any poker on television?
Dale: Yes; I've watched the WPT TV show since it first aired, and I really like the format and the commentators. I like it better than the World Series of Poker since WPT's TV show runs throughout the entire year whereas the WSOP show is contained to just a few months during the summer.

ClubWPT: Thanks for sharing that with us! One of our main focuses at World Poker Tour is on the synergy between the WPT Tour, the TV show, and our online poker product. And when it comes to ClubWPT, we have a LOT of great things in store for 2020! For example, a lot of big and exciting promotions, a new revamped website and an improved community aspect to our online poker platform.
What games and tournaments do you usually play on ClubWPT.com?
Dale: I try to play in the bigger Featured Tournaments you spread on the weekends, either any of the VIP seat tournaments or the big cash events.

ClubWPT: What is it about poker that you like to most?
Dale: I love the competitive nature of the game, and the fact that it's a battle of the minds; There is the element of the unknown for everyone playing. I may have, or may not have, a good hand. If I don't have the goods I gotta be able to force you off your hand, or fold to minimize my loss.
And it doesn't hurt that I've enjoyed some great wins over the years; I mentioned earlier that I won a vacation to Ireland, a trip to Vegas to play in the World Series of Poker resulting in a twenty thousand dollar cash, and now most recently, winning an all expenses paid VIP package to play in a televised World Poker Tour event against the best players in the world.

ClubWPT: What do you like most about ClubWPT?
Dale: I love the fact that you have tournaments starting every ten minutes, a bunch of freerolls, sit 'n gos, all cash prizes, and I really like the game graphics.

ClubWPT: Tell us about the recent Las Vegas trip where you got the meet and hang with the WPT staff and crew.
Dale: Yes, that was great! I went with my wife, and we got to watch the movie 7 Days to Vegas. And then we got to meet and talk to Vince Van Patten, Phil Hellmuth, and of course Caitlyn Howe, the ClubWPT Ambassador.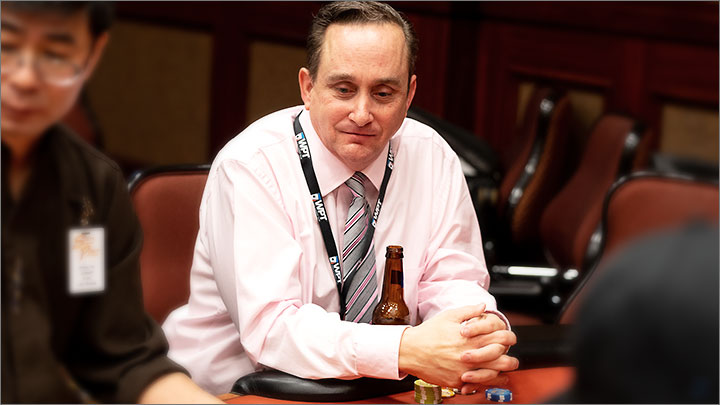 ClubWPT: Any particular highlights you remember from the play leading up to you winning the WPT Gardens package?
Dale: My style of play is pretty consistent, and I'm rarely the chip leader throughout the early stages of the tournament, but I remember that I was able to double-up early on and that gave me a healthy chip stack so I could sit back and be more conservative before the first break. Once you're past that first break, half the player pool has already busted, including the all-in bingo folks who don't take it as seriously as I do. So getting past the first break is key, especially if you got some chips.
And the Sunday I won The Gardens package was pretty much business as usual for me: I was over at buddy's house watching football, while at the same time playing in the tournament on my phone. After the first game ended we headed over to a local place for burgers and beers to catch the second game. During half-time we went back home to continue watching football, including the night game. And it was during that time I ended up winning the tournament.

ClubWPT: Do you remember any details about the end of the tournament, any particular hands for example, that ended up being instrumental for you ultimately taking down the tournament?
Dale: Most of it is a blur since I was pre-occupied watching football most of the time while I was playing, but one hand that I do remember is when I was dealt AJ and that I got real lucky on. There were probably 20-30 players left and I was towards the bottom in the chip counts.
I cannot recall exactly the flop, but I remember betting out and there were two other people in the hand that went all-in, one of which had two pair. The flop gave me a few outs to a straight, and sure enough, when the board had run out, I'd gotten my straight and swooped the pot!
That hand catapulted me towards the top of the chip counts, and all of a sudden I was at the edge of my seat and getting really excited!
I manage to get to the final table, and out of the 9 people, I'm probably 7th in chips. There was this one guy who was the chip leader and who tried to bully the rest of us but I bided my time and only played premium hands. Eventually we're down to only 4 players and we're all equal in chips. That only lasts for so long and a few hands later I'm heads-up with a 3-1 chip advantage.
My opponent gets dealt K7 or Q7, I cannot remember exactly, and I get dealt K9. The flop comes 7 9 2, at which point he goes all-in and I call. The board runs out blank and I end up winning the tournament with may pair of 9s vs his pair of 7s.

ClubWPT: Wow; That's amazing! Dale, let me see if I get this straight: You're telling us that you played the entire tournament on your phone?
Dale: Yes. In fact, I play most ClubWPT tournaments on my Android phone, simply because I'm not home all the time when I choose to play. In fact, when I won the 7 Days to Vegas trip to Las Vegas I was actually playing on ClubWPT online, while at the same time playing live poker at Agua Caliente Casino.
People would ask me: "Hey, why do you play online while you're at a live table?" And I'm like: "Well, sometimes you guys take a loooooong time to make a decision so all I do is fill in the time." LOL!
And once in a while the other players at my live table get very curious of how I'm doing in the online tournament, sometimes even more interested in what's happening on my phone than what's going on right in front of them.

ClubWPT: That's amazing! You mentioned you play most ClubWPT tournaments on your Android phone; So do you play in the browser or do you use our dedicated Android app?
Dale: I use the browser, but now when you mention it, I should probably test out the Android app.

ClubWPT: You can download the Android app, including our desktop app, on our website.
What is your strategy for WPT Gardens Poker Championship Main Event?
Dale: Obviously I wanna cash; I wanna hit that cash line. And ultimately I'd love to be at the final table. I wanna prove to my friends that I'm not just your average amateur poker player but that I got some skills. So when they see me on TV on the big poker stage they should think to themselves: "Damn, I better watch out…" LOL!

ClubWPT: We're definitely rooting for you and sincerely hope you make it to the final table, or at least have a decent cash. When you're not playing poker, what else do you like to do outside work?
Dale: I work as an insurance broker, but a year ago I also had a second job driving for Yellow Cab. It was mostly to pass time because my wife was working from Noon to 8 PM or sometimes 2 to 10, but after my Mom died, I took stock of things and what matters in life, so now I just have my insurance job.
Me and my wife are pretty active; We go to the beach, we've been skydiving TWICE(!), and do the normal dinner and movie nights, spending time together; Basically just enjoying life as much as we can.
And I've also been to Vegas three times this year. Whereas before, I didn't go to Vegas more than once every 4-5 years.

ClubWPT: It's been a great pleasure talking to you Dale and all of us at World Poker Tour® and ClubWPT wish you good luck at the WPT Gardens Poker Championship Main Event.
Dale: Thank you!


To follow Dale when he's playing the event, please check out our WPT® Gardens Poker Championship Main Event Live Updates reporting.