The Tony Dunst WPT® Battleship Bounty
Tony Dunst $100 Buy-In Large Field Online Multi-Table Tournament (FREE VIDEO)
Brought to you by LearnWPT.com
Watch This FREE Strategy Episode From LearnWPT Instructor Tony Dunst!
LearnWPT Instructor Tony Dunst has been a model of consistency on the live poker scene, including most recently his deep run in the 2019 WPT Tournament of Champions.
Tony's online poker resume is no exception and we're excited to share this in-depth look at a recent deep run in a 1,000+ person online tournament.
Tune in as Tony shares his thought process as he navigates unknown opponents at the Final Table and identifies key adjustments for managing pay jumps and applying pressure to less-skilled opponents.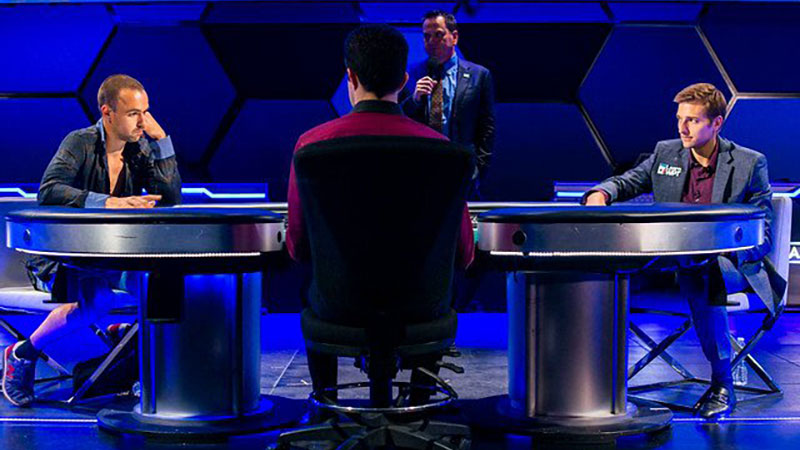 This video is part of the LearnWPT Exclusive On Tour with Tony Dunst Strategy Episode series. Join Tony for a behind the scenes look into the most thought provoking hands he plays from real WPT events and teaches strategies and concepts you can use in your game.
Click here to learn more about Tony's extensive poker accomplishments and more importantly… how he can help improve your game.
FYI… this exclusive access will only be available to non-members of LearnWPT for a limited time (access expires July 1, 2020) so make sure to check it out before that time!
We'll see you online,
– LearnWPT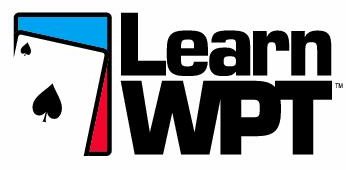 Think Like A Pro
Improve Your Game Today! Join LearnWPT and Get:
To join (just $5 your first month) click the JOIN NOW button below and start improving your game TODAY!
Have questions about LearnWPT? Email us at help@learnwpt.com and we'll be happy to help!
Team WPT® Live Stream Poker Schedule

Watch The
Live Stream
And Listen To The Play-By-Play Audio Commentary By The WPT® Family As They Play Poker On ClubWPT.com
Unprecedented times calls for unprecedented measures and the entire World Poker Tour® family is rallying behind the effort of creating a fulfilling environment around our poker community while social distancing.
You can now not only play against the WPT® family on the virtual felt at ClubWPT.com but also watch them play and listen to their play-by-play commentary during each and every hand.
The entire World Poker Tour® family and team ClubWPT™ want you to know that you're not alone and that we're even MORE accessible now than ever before, and to a lot wider audience. All possible thanks to the WPT® Live Streaming Channel on Twitch.com.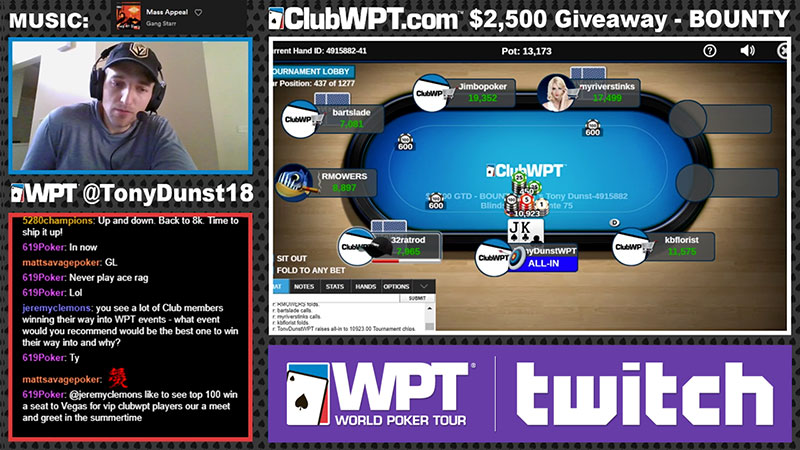 Did you ever wonder what it would be like to play poker against "The King of Hollywood Home Games" (Vince Van Patten), WPT® Champions Club member (Tony Dunst), WPT® Anchor and inductee of the Australian Poker Hall of Fame (Lynn Gilmartin), and co-founder of the Tournament Directors Association and inductee of the Poker Room Manager's Hall of Fame (Matt Savage)?
Well now's your chance! Get in on the action during our WPT® Bounty Series this week and see if you got what it takes to felt them.
The World Poker Tour® Players
Vince Van Patten – Username: Vince Van Patten
Tony Dunst – Username: TonyDunstWPT
Lynn Gilmartin – Username: LynnGilmartin
Matt Savage – Username: MattSavage
Cavin Quintanilla, AKA "Cavin Casino" – Username: CavinCasino (Guest Bounty)
Jeremy "JC" Clemons – Username: JeremyClemons (Guest Bounty)
Sabin "MzGirly" Boyce – Username: MzGirly (Guest Bounty)