Win A WPT® NFT Pack When You Play In The $2,000 Cash Guaranteed Bounty Tournament Hosted by Tony Dunst
POWERED BY THETA NETWORK – LEADING BLOCKCHAIN VIDEO PLATFORM
Saturday, August 7, 2021 @ 8:00 PM ET
WPT® NFT Packs Awarded
WPT® NFT Packs awarded to the final two tables (18 players) of the tournament.
Winner will get a WPT® NFT Legendary Pack.
Runner-up will get a WPT® NFT All-In Rare Pack.
The other final 16 players will each receive a WPT® NFT Base Pack.
To learn more about NTFs and limited edition digital assets, tune in and listen to Tony's live stream where he'll explain in more detail and answer questions.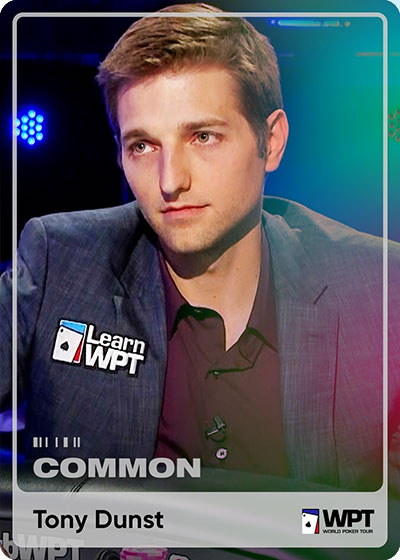 Tony Dunst (Username: TonyDunstWPT)
What is ThetaDrop?
ThetaDrop is a next-generation non-fungible token (NFT) marketplace for digital collectibles, launching with the World Poker Tour®. Other branded partners will be announced soon and a general marketplace will open to all creators/artists big and small in the coming months. As a real-time NFT marketplace, ThetaDrop incorporates live streaming during auctions and NFT drops to increase creator-fan engagement, and tie-ins with live television and cable broadcast to millions of global viewers.
ThetaDrop is powered by the Theta Network, the leading blockchain technology purpose-built for media and entertainment. It is based on a proof-of-stake model unlike Bitcoin ($BTC) and Ethereum ($ETH) and therefore is environmentally friendly and 100% green. Creating and transacting NFTs on the Theta Network costs a fraction of a penny and is 100x faster than Ethereum. We know our branded partners and creators love our approach, we hope you will too.
What are NFTs?
Simply put, an NFT (non-fungible token) is a digital collectible or item that is unique and has exactly one owner, guaranteed and visible to everyone. NFTs can represent any digital asset like art, audio, videos, items in video games and other forms of creative work. We're also excited to bring NFTs with offline tie-ins, for example, a new music track NFT which gives the owner a backstage pass to meet the artist, or a WPT® poker NFT that grants an entry into the next physical tournament.
From a more technical standpoint, an NFT is a unit of data on a digital ledger or distributed database called a blockchain. Each NFT represents a unique digital item, non-divisible and is therefore not interchangeable.

---
Not yet a ClubWPT™ VIP Member?
Enjoy playing poker online at the official website of the World Poker Tour® FREE for 14 days for and a chance to win $100,000 in cash & prizes each month, including a televised WPT® Main Event seat VIP package, entry into the the weekly featured cash poker tournaments, access to all of our exciting social casino games, SaversGuide® membership, discounts on official World Poker Tour® gear at ShopWPT™, and ScoreBig® discounts.*
Already a VIP Member? Click here to log in.