$5,000 Pot-Limit Omaha Challenge
This promotion is based on Sweepstakes laws.* See Prize Eligibility for eligibility requirements. *NO PURCHASE NECESSARY.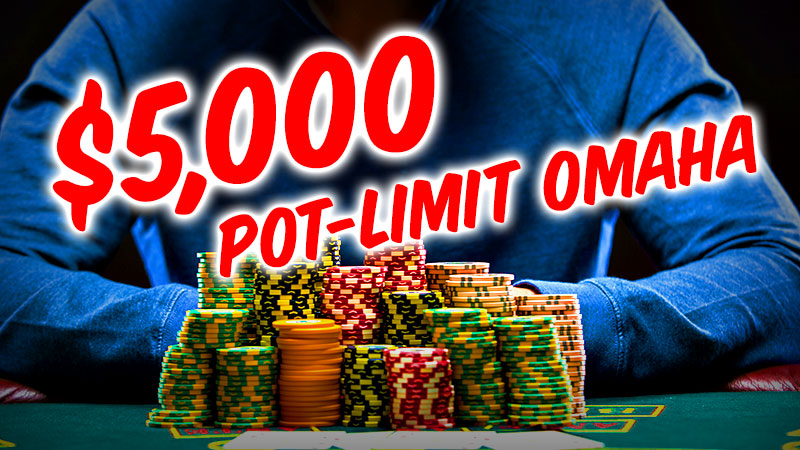 Double The Fun With Four Hole Cards Instead of Two
ClubWPT™ is known for their thrilling No-Limit Texas Hold'Em tournaments, but when was the last time you played an Omaha game? This month we're bringing PLO (Pot-Limit Omaha) to the forefront with an exiting Omaha tournament series, featuring half a dozen satellites feeding into a $5,000 guaranteed cash prize pool Main Event** on February 27, 2021.
If you're not familiar with Omaha, then this is a perfect opportunity for you to learn! So how does it differ from Hold'Em? They're both similar in that it's a community card poker game, but instead of being dealt two hole cards, each player is dealt four – and must make their best hand using precisely two of them – plus three of the five community cards.
The action in Omaha can be fast and furious as there are so many more chances to make a hand, and how your odds of making a winning hand changes so much more drastically with the turn of each community card; whether that be the flop, turn, or river.
You may be way ahead one second, but fall behind the next, as each player battles trying to make the winning hand by using two of the their four hole cards, in conjunction with their chosen three community cards.
So yes, there's no secret that Omaha truly offers 'double the fun' thanks to its numerous hand combinations possible as the hand unfolds, and if you haven't tried it yet – we cannot think of a better time than now to get in on the action.
Qualifiers & Main Event**
The series consists of six (6) qualifying satellites in total throughout the month of February, all feeding into the Main Event on Saturday, February 27, 2021.
Three (3) of the scheduled qualifiers are reserved for VIP members, and the rest three (3) for Diamond. But as you know, if you're a Diamond member, you can play in the VIP satellites as well, essentially doubling your chances to win a set into the Main Event**.
VIP Qualifiers**

(100 Seats Awarded In Each Satellite)

Sunday, Feb 7, 2021 @ 2:00 PM ET
Sunday, Feb 14, 2021 @ 7:00 PM ET
Sunday, Feb 21, 2021 @ 7:00 PM ET


 

Diamond Qualifiers**

(100 Seats Awarded In Each Satellite)

Saturday, Feb 6, 2021 @ 9:30 PM ET
Saturday, Feb 13, 2021 @ 8:30 PM ET
Saturday, Feb 20, 2021 @ 9:30 PM ET


$5,000 Pot-Limit Omaha Challenge Main Event**
Saturday, Feb 27, 2021 @ 5:00 PM ET
Lobby Name: OMAHA CHALLENGE $5K Cash Invitational

$1,000 to 1st Place

2nd: $600 • 3rd: $500 • 4th: $350 • 5th thru 81st: Cash Prizes


Not yet a ClubWPT™ VIP Member?
Enjoy playing poker online at the official website of the World Poker Tour® FREE for 14 days for and a chance to win $100,000 in cash & prizes each month, including a televised WPT® Main Event seat VIP package, entry into the the weekly featured cash poker tournaments, access to all of our exciting social casino games, SaversGuide® membership, discounts on official World Poker Tour® gear at ShopWPT™, and ScoreBig® discounts.*
Already a VIP Member? Click here to log in.
**You must be a ClubWPT™ member on February 27, 2021 in order to play, so keep your membership active. Members can only win one (1) seat in the $5K PL Omaha Challenge so please don't enter another qualifier if you have already won a seat. DO NOT UNREGISTER FROM THIS EVENT when it opens for registration; if you won your entry, you will not be able to get back in.