Full Circle – ClubWPT's Poker Live Stream Team Community Posts Stellar Sunday Results

April 27, 2021
When the global pandemic hit hard in the spring of 2020 there was a lot of uncertainty about what would lie ahead. Most of the country quickly entered into a lockdown and people who were used to being out and about were now forced to find new and different ways to spend their time at home.
As a company, the World Poker Tour® had already made a major commitment to improve the online poker experience on ClubWPT™ so we felt like we were in a great position to serve as a much needed outlet for in-home entertainment. We were proud to experience growth both from new players just discovering ClubWPT™ and existing players finding more time to join our many different poker tournaments and social casino games.
One of the major initiatives we instituted was having key members of the WPT® Television Family play and stream weekly poker tournaments on ClubWPT™. When Vince Van Patten, Lynn Gilmartin, Tony Dunst and Matt Savage took to the virtual felt at ClubWPT™ what we knew is that we would be providing poker entertainment as we always have but what we didn't know is that these live streams would create a new sense of family and community.
After a just a few live stream broadcasts, the term Stream Team was born and it was clear this community was going to take on a life all of its own. We have been running featured bounty events on ClubWPT™ for over a year now and have kept a very consistent schedule with Vince, Lynn, Tony and Matt streaming on World Poker Tour's official Twitch channel.
The Stream Team community has created their own vibrant Discord channel to connect with each other outside of the streams as well. We have had a few Stream Teamers even dip their toes into the streaming waters by streaming on days when the WPT® family aren't streaming.
One of the things that the Stream Team is most proud of is when one of their own makes a deep run in one our featured poker tournaments. And they had plenty of reason to smile this past Sunday, as three popular Stream Teamers took down major $2,500 cash scores.
In the $200,000 ClubWPT™ TV Challenge Monthly Final, Stream Team member John Riesterer (Johnnyhaha) came up one spot short from qualifying for the biggest final table in ClubWPT™ history, taking down a tremendous $2,500 second place prize.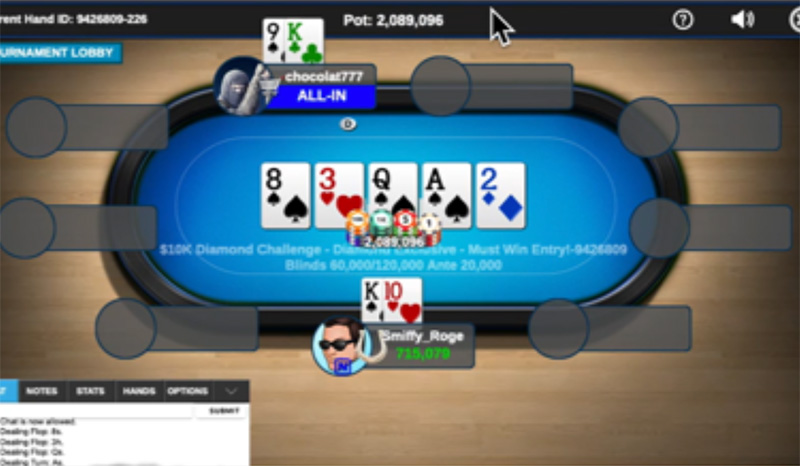 The next player to notch a major accomplishment was Stream Team legend Roger Smith, known on ClubWPT™ as Smiffy_Roge, who took down the $2,500 cash first place prize in the $10,000 Diamond Challenge Main Event. Roger is a streamer himself as you can catch him Tuesday nights on Smiffy_Roge's own Twitch channel.
The third $2,500 score was taken down by Frank Smith (Franksc2012) who bested the $10,000 VIP High Roller Main Event at a final table that featured fellow stream teamer Metti23, who finished third.
We appreciate all of our poker players at ClubWPT™ and welcome everyone to join us on the live streams and be a part of the ClubWPT™ Stream Team community.
Other notable Stream Team finishes this weekend include:
$200,000 ClubWPT™ TV Challenge Monthly Final –
Sammyclips placed 25th for $100.00 cash
$10,000 Diamond Challenge Main Event –
Sammyclips placed 25th for $100.00 cash
Fennways44 placed 34th for $50.00 cash
Airherb placed 44th for $50.00 cash
$10,000 VIP High Roller Main Event –
MattSavage placed 22nd for $100.00 cash
Miniaussie placed 30th for $100.00 cash
619Poker placed 38th for $50.00 cash
Good luck at the tables!
– By Jeremy Clemons – VP of Online Services for World Poker Tour® and General Manager of ClubWPT™
---
Wanna Join The ClubWPT™ Stream Team?
Enjoy playing poker online at the official website of the World Poker Tour® FREE for 14 days for and a chance to win $100,000 in cash & prizes each month, including a televised WPT® Main Event seat VIP package, entry into the the weekly featured cash poker tournaments, access to all of our exciting social casino games, SaversGuide® membership, discounts on official World Poker Tour® gear at ShopWPT™, and ScoreBig® discounts.*
Already a VIP Member? Click here to log in.